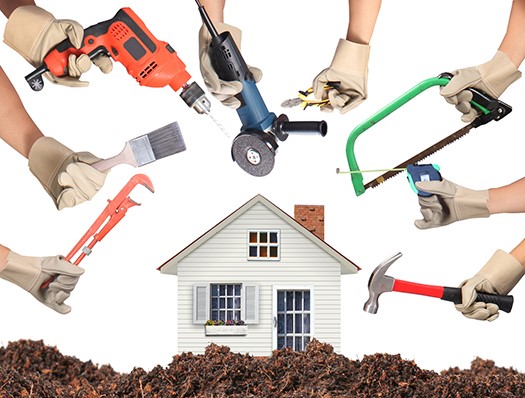 Sydney's white-hot property market has led to a renovations boom and high short-term demand for storage as renovators make space for a storage unit in their renovations budget.
Homeowners are unwilling to buy and sell in a rising (and some think overheated) property market. Many have opted to stay put in their current home, turned off by the lack of quality properties available and the high transactional costs of buying and selling – property marketing fees, agent's commissions, legal fees, moving costs and stamp duty.
And they're spending up big on renovations instead.
Lending for home improvement up almost 50%
According to recent data from the Australian Bureau of Statistics, the value of home renovation-related lending in January was up a massive 47.4 per cent compared with the same time last year.
The perfect storm of low interest rates, the Federal Government's HomeBuilder scheme and the effects of the COVID pandemic have fuelled Australia's supercharged renovation market.
Working from home during COVID highlighted a need for more space or better configuration of the home's floorplan. Lockdowns prevented travel, restricted spending on holidays and luxuries and created savings. A lot of that money has been diverted into home improvements.
Don't move, improve!
Renovating is an exciting opportunity to update your living space, make it more enjoyable to live in and ultimately transform the home you love and don't want to leave.
Sometimes small things, like laying a floating timber floor or painting walls, can add significant visual appeal by freshening the way the room presents. Large projects like putting in new kitchens, bathrooms and extensions can improve your existing property, add comfort and functionality to create the home you have always wanted, and grow value in the process.
Exterior upgrades not only improve the look and feel of a home, but they can also extend living areas outdoors and create an appealing and seamless connection between indoors and outside.
And first impressions count.
An attractive, inviting exterior and front entrance play an important role in street appeal, differentiating your home from your neighbours' and ultimately helping to increase property values.
Include self-storage in your reno budget
If you're thinking of updating your home and adding extra space, it's also a good idea to include a storage unit in your project budget. Not convinced that you need it? Take a few moments to check out our Top 5 reasons to use self storage blog, or learn from Joy's and Michael's renovation experience that they recently shared with us.
"The interior of our home needed to be freshened up and repainted. We have a late Victorian cottage that is 135 years old. The walls have moved and cracked over the years and it was also the old horsehair plaster decorative ceilings and cornices were peeling. They needed to be sanded back, filled and sanded again prior to undercoating and painting – a time consuming and messy process that, despite the drop sheets, left a coat of fine dust on everything and constantly spread throughout the rest of the house.

We decided to tackle the project room by room, dragging furniture out of the room we were working in and stowing it in other rooms and in the garage.

This soon became unmanageable for two reasons:

Stowing furniture in another room ate into its living space and made the room virtually unusable.
The garage became overrun with the remaining furniture including wardrobes, clothing, lounge chairs, spare beds and mattresses, boxes of household items and everything else that didn't fit inside the "spare" rooms we weren't working in.

For a couple of months, we were living in a few very cramped rooms overflowing with stuff, falling over each other and tripping through the obstacle course that our bedroom, home office, kitchen and living room had become.

We originally thought the repainting would be done in about two months, over the weekends (as both of us work fulltime). But despite our best plans, this proved to be too ambitious. It ended up taking more than triple that time, due to slow drying, filler shrinking, repaired cracks reopening and needing to be refilled and sanded again, finding cracks in walls behind wardrobes that we didn't know about, re-plastering walls (more dust) and having to apply more than the two coats of paint to get the quality finish we wanted.

When it became obvious that the simple "8 weekends" painting project was anything but simple and was going to take a lot longer than planned, we knew it was time to get a storage unit from Rent a Space.

A storage unit when painting or renovating is not a luxury. It is a necessity.

We really should have gotten one from the beginning. Not only would it have made life more bearable, but it would also have saved us so much time and allowed us to concentrate on the project instead of eating into painting time hauling (heavy) furniture out of the way to access a wall or part of the ceiling.

Stowing furniture in other rooms just wasn't practical. We accidentally scratched the polished timber floors in the process, which means another renovation project to sand and reseal the floors in the hallway and bedroom, more expense and more dust.

It also meant that there was nowhere in the house that didn't look cramped and untidy, and we had nowhere to spread out and relax.

Your staff were so helpful and friendly, and the free truck and driver service was a lifesaver that made it easy so to transport everything into storage in one trip. The storage unit gave us our garage, living space and sanity back. Thank you, Rent a Space."
A short term, flexible storage solution makes sense
Whatever the size and scope of the work, whether it is delivered through your DIY efforts or by expert tradespeople, it requires careful planning, budgeting and decision-making. Domain has compiled a handy guide to explain where to start when renovating, including the options, costs and decisions that need to be made along the way.
Keep in mind that things often take longer than planned or are more complex than they seem. Hidden complications can slow things down and blow out project times and budgets. And make living through a renovation so much harder.
So, give serious consideration to the benefits of storing your household items and furniture in a storage unit while you complete your renovation.
It really will allow you to focus on the actual renovation from start to finish, keep your items secure and free from damage and dust, help you declutter and see exactly what you are working with, and give you a blank canvas to complete an amazing transformation that you'll enjoy for years to come.